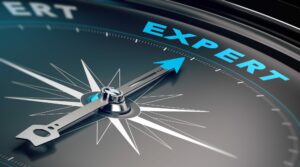 There's an old saying that goes like this: To teach, you only need to be one lesson ahead of the student.
Think about that. If you know something that someone else doesn't, you have some level of expertise – however small – in that area! You have something of value to share with someone else!
Now, let's take this to sales.
In any industry, salespeople work with their products and services every day. They live it day in and day out until it's second nature to them. And yet, the limiting belief still exists within salespeople that they are NOT experts and that they are unqualified to sell what they have to offer.
Seems silly when you look at it like that, doesn't it? But it happens all the time!
This limiting belief is called "Imposter Syndrome." It looks the same in brand new startups as it does in individuals who have 20 years of experience, several degrees, and successful businesses!
And in EVERY case, it's a lie! Hear this: No matter how new you are to your industry, you are an expert, and you have something of value to offer. Furthermore, if you are asked a question about your industry that you don't know the answer to, YOU are the one who is best equipped to find the most accurate answer to that question!
It's that simple! You know WAY more about your industry than your target clients do – own it!
This was articulated to me about a year ago by a Sales Camp attendee. After Sales Camp was over, she was reflecting on what she had learned. She told me this:
"(Before Sales Camp), I had really been taking for granted how much I knew about my industry. For me, it's nothing special. It's everyday knowledge and it's almost too easy. But in talking with other people who are experts in THEIR industries, two things became quite clear to me. First, I realized how little I knew about their industry. Second, I realized how little they knew about mine! We had so much to talk about in educating each other on our work. We both learned a lot – namely, that we as business owners truly need each other."
This is just one of several things I discussed with my dear friend, (whom I have lovingly dubbed my "twin,") Janise Graham, on my latest podcast. An accomplished businesswoman, Janise has decades of sales experience to share and yet she struggled with limiting beliefs like most salespeople do.
One of the limiting beliefs that she had when she got started in insurance was that she couldn't help anybody. She felt like she didn't know enough, didn't have all the answers, and therefore wasn't up to the task. She shares how she overcame this belief, how she communicated so that her clients would understand her industry, and what it felt like when she began to REALLY increase her sales – you do not want to miss this episode!
Remember, you only need to be one lesson ahead to teach someone. And you have far more information and expertise in your industry than your target clients do! Be the expert – because you have something of tremendous value to offer.