Saving American Allies in Iraq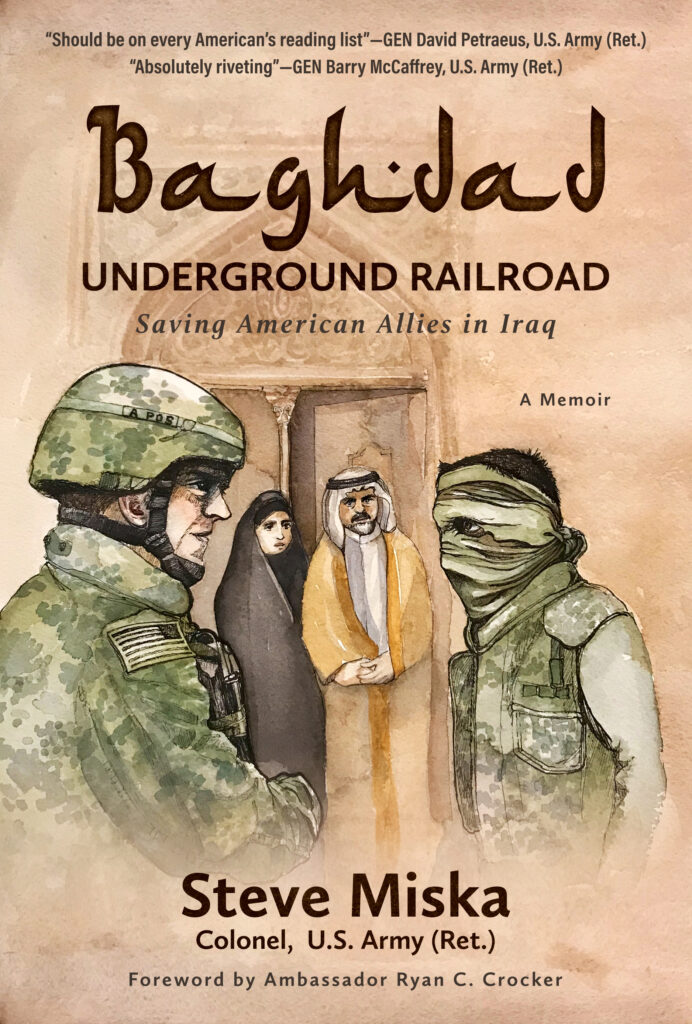 In 2007, Iraq was in the midst of violent sectarian cleansing. Col. Steve Miska led a team within the 2nd Brigade, 1st Infantry Division (known as Dagger Brigade) that established an underground railroad from Baghdad to Amman to the U.S. for dozens of Iraqi interpreters facing near-certain death at the hands of the "death squads" that hunted down and slaughtered interpreters and their families.
The mostly young men and women who embraced American idealism risked their lives to support U.S. service members in countries where understanding the language, the people, and the contours of the culture are often a matter of life and death. Yet, according to recent estimates, more than 100,000 interpreters and at-risk family members remain in Iraq and 70,000 remain in Afghanistan, each in grave danger.
The plight of Iraqi and Afghan interpreters left behind by the United States remains one of the most significant human rights issues of the Global War on Terrorism, America's longest, and ongoing, military conflict.
In Baghdad Underground Railroad: Saving American Allies in Iraq (Onward Press; May 19; ISBN: 978-1-954988-03-3), Colonel (Retired) Steve Miska offers a stunning, first-person account of how he and his teammates worked to overcome policy failures and broken promises and protect America's most reliable combat partners: foreign military interpreters.
In this compelling new book, readers will gain:
● An in-depth understanding of the ways in which foreign military interpreters support U.S. missions and keep service members safe in combat zones;
● A glimpse of the fraternal bond that's forged across cultures by shared effort, shared sacrifice, and shared loss;
● An inside view of the incredible role military spouses and mothers have played as sponsors, hosts, friends, and advocates to foreign military interpreters who've come to the United States;
● A clear account of the early days of the special immigrant visa (SIV) program and an example of a "whole of country" effort to resolve a strategic shortcoming.
Baghdad Underground Railroad is a sober reminder of the far-reaching human and national security consequences of abandoning U.S. allies in countries of conflict. Above all, it is an exploration of universal questions about hope, brotherhood, and belonging — questions that strike at the heart of who we are as a people and as a nation.
Author Bio
Col. Steve Miska served as an officer in the United States Army for 25 years before retiring in 2015. From 2011 to 2012, Steve served in the White House as Director for Iraq on the National Security Council. During his second of three combat tours in Iraq, Steve led a team that established an underground railroad from Baghdad to Amman to the United States for dozens of foreign military interpreters who supported U.S. troops in-country. Since then, he has written extensively about the need to protect soft networks, and has acted as an advisor to several non-profits that aim to support and protect foreign military interpreters, including No One Left Behind and the International Refugee Assistance Project. He is the Founder & CEO of Servant Leader Citizen (SLC) Consulting, which exists to educate others about national security and counterterrorism issues in an increasingly global environment, and executive director of the non-profit First Amendment Voice, a nonpartisan effort to reinvigorate civic awareness about First Amendment issues. Steve is a graduate of the United States Military Academy (B.S., Economics), Cornell University (M.B.A.), and the National Defense University (M.A., Strategic Security Studies).
Praise for Baghdad Underground Railroad
"Steve Miska's Baghdad Underground Railroad provides a riveting, vivid description of the mutual trust, shared sacrifice, and extraordinary bonds between U.S. servicemembers and their foreign interpreters on the battlefield."
General David Petraeus, U.S. Army (Ret.), former Commander of the Surge in Iraq, former Director, CIA
"Baghdad Underground Railroad is a remarkable story about a group of soldiers who didn't let the horrors of war rob them of their humanity or compassion."
Greg Jaffe, National Security Reporter, The Washington Post
"Read this book and enjoy the stories of service members, ordinary citizens, and Iraqis living up to the highest values of humanity in extraordinary ways. Engrossing."
Becca Heller, Co-Founder & Executive Director, International Refugee Assistance Project
"Absolutely riveting. Must read for 2021."
General Barry McCaffrey, Former Clinton Drug Czar, U.S. Southern Commander, NBC & MSNBC Commentator
"Baghdad Underground Railroad is a testament to the commitment and values of US military…" Emma Sky, author of The Unraveling: High Hopes and Missed Opportunities in Iraq; Director, Yale World Fellows Program
"The now-retired officer's book – part memoir, part history – is good evidence that any American, at home or at war, can fight the good fight for universal compassion."
J. Ford Huffman, nationally published book reviewer (including Army Times and ARMY magazine)
"Steve Miska is to be thanked for raising awareness about the importance of America keeping its word."
Dr. Jerrold D. Green, President & Chief Executive Officer, Pacific Council on International Policy