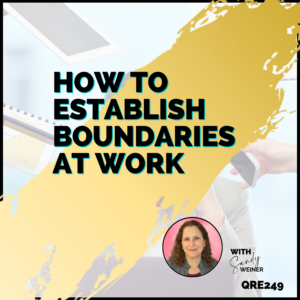 Boundaries are key to having a business (and living a life) with less stress and resentment. And it can be the difference between feeling secure and feeling frustrated.
My guest Sandy Weiner learned firsthand how giving too much of herself to others without limits drained her both emotionally and physically, forcing her to decide what was important and then build her boundaries around those pieces. 
Like Sandy, setting clear boundaries for yourself, allows you to protect the things that matter most – like your peace of mind! Learning how to establish healthy limits takes practice but is worth it in the long run and will save you from feeling taken advantage of or allowing yourself to be overburdened by others. 
Get ready to level up your life as we dive into building an unshakeable boundary system — discover how to establish rock-solid boundaries in every aspect of your life, from business to romantic relationships. 
Don't miss this engaging conversation.
Ursula's Takeaways:
Intro (00:00) Sandy's Story (3:24)
Overcoming Limiting Beliefs (6:45)
Coaching Is The Gift That Keeps Giving (9:12)
Having Policies In Place (20:21)
Setting Clear Boundaries (23:00)
What Patterns Have You Created? (30:55)
About Sandy Weiner
Sandy Wiener is the Chief Love Officer at Last First Date. She's an internationally known TEDx speaker, dating and relationship coach, women's empowerment coach, author, and podcast host. Her approach to coaching is holistic, encompassing a hybrid mix of life coaching, NLP, intuition, creativity, and Non-Violent Communication. She's the author of two books, "Becoming a Woman of Value; How to Thrive in Life and Love", and "Choice Points in Dating; Empowering Women to Make Healthier Decisions in Love". She's also the host of two podcasts, Last First Date Radio and The Woman of Value Podcast. Sandy believes it's never too late to have the life and love you want!

Connect with Sandy
Website: https://lastfirstdate.com/about
Website: https://thewomanofvalue.com/about/
Facebook: https://www.facebook.com/sandy.weiner
Facebook: https://www.facebook.com/lastfirstdate/
LinkedIn:  https://www.linkedin.com/in/sandyweiner1
Instagram: https://www.instagram.com/lastfirstdate1/
Twitter: https://twitter.com/lastfirstdate1
FREE GIFT:
The Ultimate Guide to Becoming a Woman of Value, a workbook to help women show up, stand up, and speak up as a woman of value. https://www.thewomanofvalue.com/the-ultimate-guide-to-becoming-a-woman-of-value/
Additional Free Gift: The four communication archetypes: https://lastfirstdate.com/4-communication-archetypes/
About Ursula Mentjes
MY NEW BOOK – UpLevel NOW| Get Your Copy Today…

Amazon:  https://www.amazon.com/UpLevel-Now-Freedom-Personal-Professional-ebook/dp/B09V4M5DC5/
Barnes and Nobel:  https://www.barnesandnoble.com/w/uplevel-now-ursula-mentjes/1141112685?ean=9781628658316
Ursula Mentjes is an award-winning Entrepreneur and Sales Expert. She will transform the way you think about selling so you can reach your revenue goals with less anxiety and less effort! Ursula specializes in Neuro-Linguistic Programming and other performance modalities to help clients double and triple their sales fast. 
Honing her skills at an international technical training company, where she began her career in her early twenties, Ursula increased sales by 90% in just one year. Just 5 years later, when the company's annual revenue was in the tens of millions, Ursula advanced to the position of President at just 27.  Sales guru Brian Tracy endorsed her first book, Selling with Intention, saying, "This powerful, practical book shows you how to connect with customers by fully understanding the sales process from the inside out. It really works!" Ursula is also the author of One Great Goal, Selling with Synchronicity and The Belief Zone, which received the Beverly Hills President's Choice award.  Her Podcast, Double Your Sales NOW, is available on iTunes, iHeartRadio and other outlets.
Ursula also serves as Past Statewide Chairperson of the NAWBO-CA Education Fund and Past President of NAWBO-CA. She is the recipient of the SBA's Women in Business Champion and a recipient of the Willow Tree's Extraordinary Example and Extraordinary Entrepreneur Awards, the NAWBO-IE ANITA Award, chosen as PDP's Extraordinary Speaker, PDP's Business Woman of the Year, the Spirit of the Entrepreneur Awards Finalist and the President's Lifetime Achievement Award from two Presidents.  She has shared the stage with bestselling author Loral Langemeier, Les Brown, Tom Antion, Lisa Nichols, Giuliana Rancic and many others!  Her clients include Aflac, Ebenezer and Fairview Hospitals, New York Life, Paychex and more!  She holds a B.A. in Psychology and Communication from St. Olaf College and an M.S. in Counseling Psychology from California Baptist University.
Social Links:
LinkedIn: https://www.linkedin.com/in/ursulaincorporated
Facebook: https://www.facebook.com/UrsulaIncorporated
Instagram: @ursulaincorporated
Twitter: @ursulaincorporated
Join Quantum Revenue Expansion Private Facebook Group: www.facebook.com/groups/quantumrevenueexpansion/
Thanks for Listening!
Thanks so much for listening to our podcast! If you enjoyed this episode and think that others would love to listen, please share it using the social media buttons on this page.

Do you have some feedback or questions about this episode, or want to be a guest on the show? Leave a comment in the section below or visit the website to contact me!
Follow The Podcast
If you would like to get automatic updates of new podcast episodes, you can follow us on Apple Podcasts, Stitcher, Spotify, Amazon, or whatever your favorite podcast app is!
Leave Us an Apple Podcasts Review
Ratings and reviews from our listeners are extremely valuable to us and greatly appreciated. They help our podcast rank higher on Apple Podcasts, which exposes our show to more awesome listeners like you. If you have a minute, please leave a review on Apple Podcasts.