Quantum Revenue Expansion
Podcast Giveaway!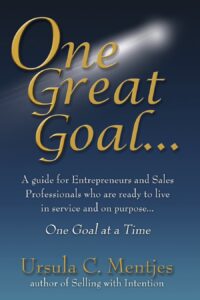 Receive one of the bonuses below by completing an online review of my "Quantum Revenue Expansion" Podcast and as a personal thank you gift from me! Simply complete the form below!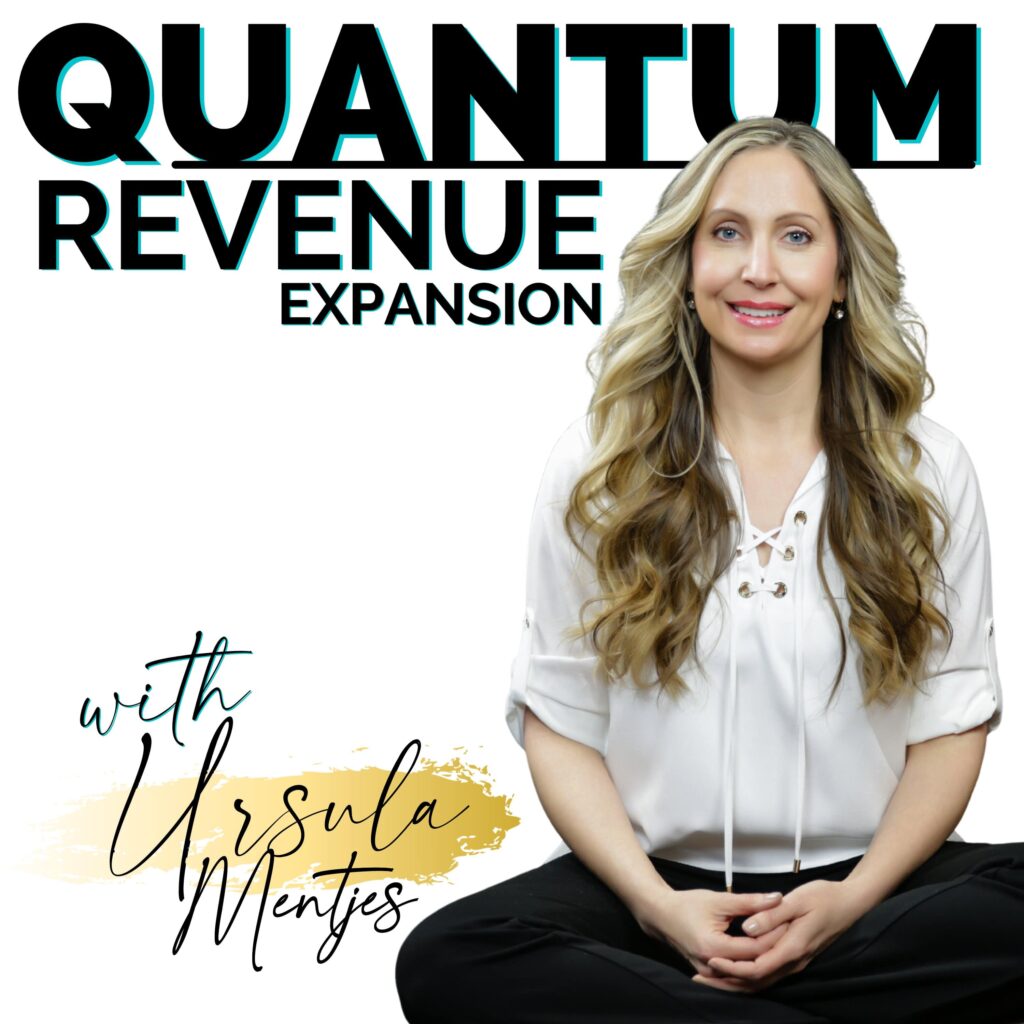 THANK YOU FOR LISTENING!
Thank you for being a loyal listener of the Quantum Revenue Expansion show! I so appreciate you taking the time to leave a review and it is my pleasure to gift you a digital copy of my bestselling and award-winning book, One Great Goal. It will help you get super clear on exactly what you want to create next while also illuminating the "boxes" or limiting beliefs you may have regarding achieving your One Great Goal. Plus, the book will show you how to break through, re-invent, innovate or transform your business so you can THRIVE vs. continuing to bump up against those pesky income ceilings. We are honored to be on this journey with you!
Keep going,
Ursula + Ursula, Inc. Team
HERE'S ALL YOU HAVE TO DO…
Visit our show on Apple Podcasts and leave us a review. Make sure to include either your Instagram or Twitter handle within. (See our easy guide below for a sample and steps to leaving a review if it's your first time.)
Come back to this page and fill out the form below to let us know you left a review. Be sure to complete the form in its entirety in order to qualify for your One Great Goal Book (Be sure to give us your best mailing address! At this time we can mail to U.S. addresses only.)
Our team will verify the review, and if all checks out and you are one of the first 20, we will send you an email to confirm, and your free gift will be on its way!
This means so much to me, thank you!  Join the conversation @ursulainc to empower small businesses, entrepreneurs and sales professionals globally! #salescamp
SHARE YOUR REVIEW HERE AFTER YOU POST.....
A SNEAK PEEK OF WHAT'S WAITING FOR YOU........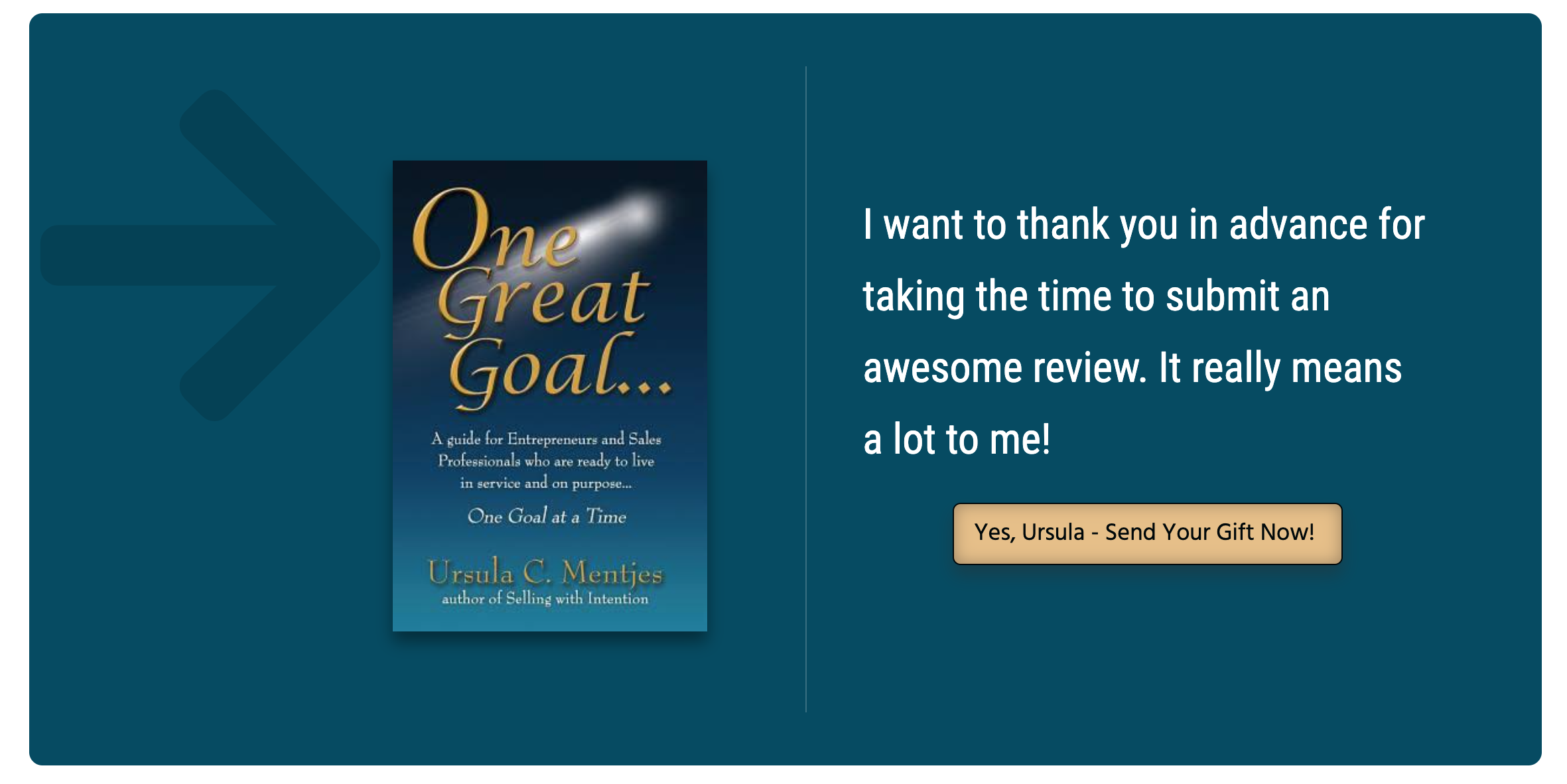 HOW TO LEAVE A REVIEW FOR QUANTUM REVENUE EXPANSION NOW PODCAST....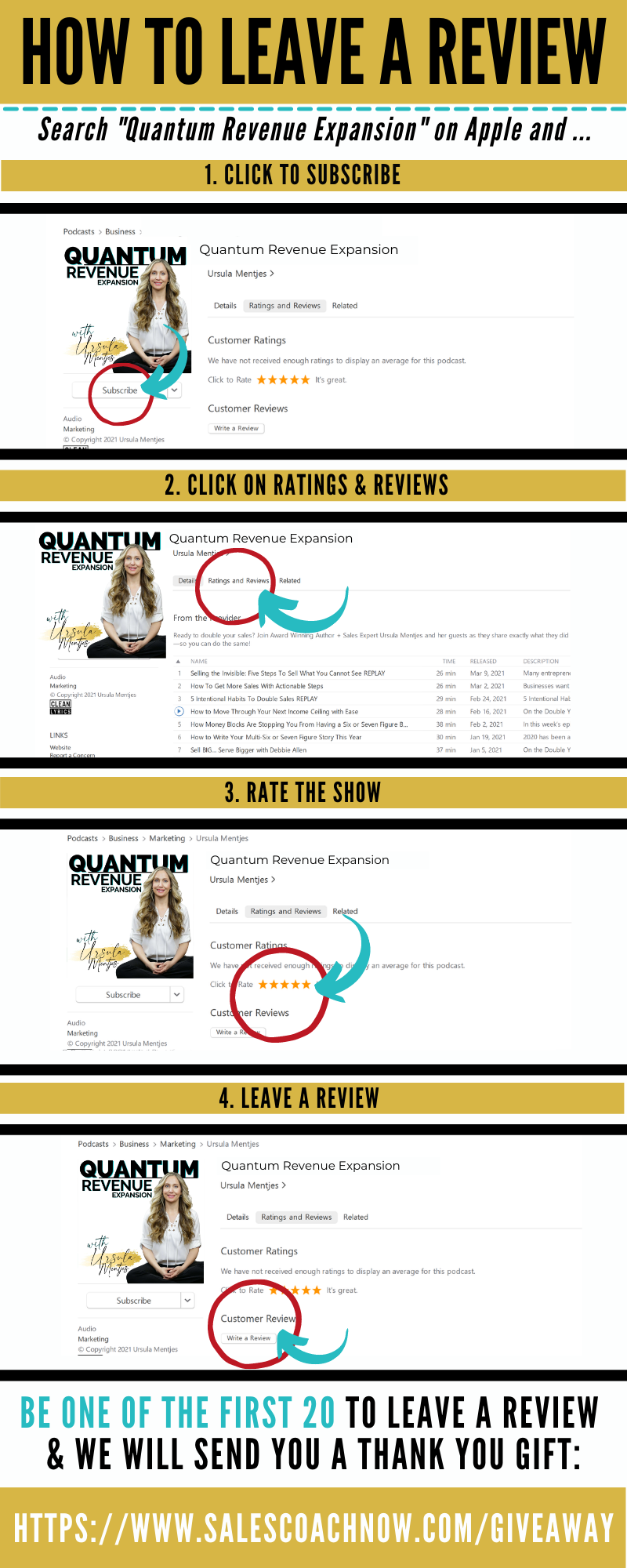 Are you prepared to welcome a speaker who can revolutionize your sales?